Flowers by Jennie Lynne is excited to announce our in-person design classes.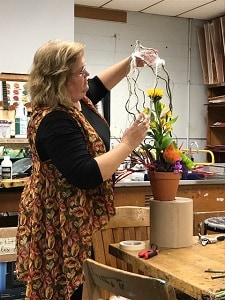 Our instructor is Heather Towne AIFD CFD who has been a florist for 30 years. She has her bachelors in Art Education from the College of New Jersey, attained her CFD (Certified Floral Designer) distinction in 2019 and was inducted into the highest distinction of AIFD (American Institute of Floral Designers) accreditation in July 2022. She has taught Floral Design for over 6 years and enjoys helping new designers and flower lovers learn and practice the skills and techniques necessary to create personal arrangements in their homes.

Heather Towne AIFD CFD will lead each attendee through the design process, care and handling of flowers along with some tips and tricks in an hour long class. Each attendee will take home a fresh arrangement for their home each session. Sample Pictures will be posted on our Instagram and Facebook pages at the beginning of each month.

The list of dates are ready to choose from below. Please go to our Design Class Form and indicate which class and date you are interested in. You can also schedule a private class for a group of friends or family as a work party, shower or birthday gathering. Please ask for availability for those private classes.
The Floral DIY kit is $40 per class, 3 classes for $115 if you sign up for 3 at the same time.

Flowers by Jennie Lynne will be holding floral design classes in person starting again in January 2023! Class size is 12 to 14 max. We will offer 2 to 3 classes per month to accommodate. Class time is 6:30 to 7:30pm. Most class dates will fall on Mondays, Wednesdays and Thursdays, there are a few exceptions when we get close to holidays so please check your calendar when choosing your classes.
We will be meeting in the classroom in the basement of the shop, parking is in the back:
100 Trenton Road, Fairless Hills, Pa 19030.
Classes are $40 each or if you sign up for 3 classes it is $115. To sign up call 215-547-4550 or go to our Design Class Form and fill out the information form (we will then contact you).
2023 CLASSES
September - Fall Vase
All the feels of Fall - Loads of texture and fall colors in a glass vase.
September 24th, 3:00 pm (SOLD OUT)
September 25th, 6:30 pm (SOLD OUT)
September 27th, 6:30 pm (3 SPOT LEFT)
September 28th, 6:30 pm (SOLD OUT)

October - It's Halloween Baby!
Fun and creepy arrangements all tricked out for the holiday.
October 24th, 6:30 pm (SOLD OUT)
October 25th, 6:30 pm (SOLD OUT)
October 26th, 6:30 pm (SOLD OUT)
October 29th, 3:00 pm (SOLD OUT)
October 30th, 6:30 pm (5 SPOTS LEFT)

November - Thanksgiving Centerpiece
Traditional Thanksgiving Centerpiece with decorative accents.
November 18th, 2:00 pm (3 SPOTS LEFT)
November 19th, 2:00 pm (1 SPOT LEFT)
November 20th, 5:00 pm (1 SPOTS LEFT)
November 20th, 7:00 pm (1 SPOTS LEFT)
November 21st, 5:00 pm (SOLD OUT)
November 21st, 7:00 pm (SOLD OUT)

Mid-December - Boxwood Tree
Boxwood Tree Creation with some holiday accents in a red festive container.
December 14th, 5:00 pm (2 SPOTS LEFT)
December 14th, 7:00 pm (1 SPOT LEFT)
December 16th, 10:00 am (SOLD OUT)
December 16th, 1:00 pm (SOLD OUT)

Late-December - Christmas Centerpiece
Christmas Centerpiece with the traditional trimmings, colors and scents.
December 19th, 5:00 pm (9 SPOTS LEFT)
December 19th, 7:00 pm (8 SPOTS LEFT)
December 20th, 5:00 pm (6 SPOTS LEFT)
December 20th, 7:00 pm (8 SPOTS LEFT)
December 21st, 5:00 pm (7 SPOTS LEFT)
December 21st, 7:00 pm (1 SPOT LEFT)
December 22nd, 5:00 pm (8 SPOTS LEFT)
December 22nd, 7:00 pm (5 SPOTS LEFT)

Sample Design Class Video