Flowers by Jennie Lynne is excited to announce our spring virtual design classes. For the class you will need to pick up your kit either the day before or the day of the video release. Your kit will include all the flowers, foliage, containers, accessories you will need.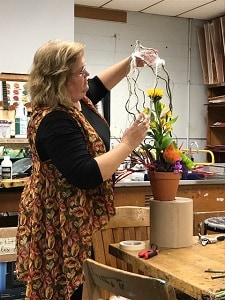 Our instructor is Heather Towne CFD who has been a florist for almost 30 years. She has her bachelors in Art Education from the College of New Jersey, attained her CFD (Certified Floral Designer) distinction in 2019 and continues to work towards the highest distinction of AIFD (American Institute of Floral Designers) accreditation once the evaluations open again. She has taught Floral Design for over 6 years and enjoys helping new designers and flower lovers learn and practice the skills and techniques necessary to create personal arrangements in their homes.
To keep with the times, Heather will be recording step by step instructions as well as floral tips to help you along the way with your design. We will send you a link (and passcode if necessary). When the time comes that we can meet in person, we have a classroom set up at our location for on site design classes, or you can continue with the recordings if that works best for you.
The Floral DIY kit is $35 per class, 3 classes for $100 if you sign up for 3 at the same time.
February 9th - Valentine Theme Floral Design
February 26th - Pantone 2021 Colors of the Year Design
March 16th - St. Patrick's Theme
April 1st - Spring Centerpiece
April 17th - Spring Wreath
May 4th - Bespoke Bouquet in Tin Pitcher
May 22nd - Spring Aqua Vase
June 8th - The Flower Show Inspiration: Habitats
June 21st - Summer Solstice Celebration