Flowers by Jennie Lynne is excited to announce our in-person and virtual design classes. For the class you will need to pick up your kit either the day before or the day of the video release. Your kit will include all the flowers, foliage, containers, accessories you will need.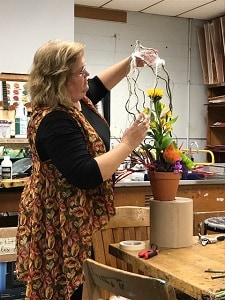 Our instructor is Heather Towne CFD who has been a florist for almost 30 years. She has her bachelors in Art Education from the College of New Jersey, attained her CFD (Certified Floral Designer) distinction in 2019 and continues to work towards the highest distinction of AIFD (American Institute of Floral Designers) accreditation once the evaluations open again. She has taught Floral Design for over 6 years and enjoys helping new designers and flower lovers learn and practice the skills and techniques necessary to create personal arrangements in their homes.
To keep with the times, Heather will be recording step by step instructions as well as floral tips to help you along the way with your design. We will send you a link (and passcode if necessary). When the time comes that we can meet in person, we have a classroom set up at our location for on site design classes, or you can continue with the recordings if that works best for you.
The Floral DIY kit is $35 per class, 3 classes for $100 if you sign up for 3 at the same time.
Flowers by Jennie Lynne will be holding floral design classes in person starting in July! Class size is 8 to 12 max. We will offer 2 classes per week to accommodate. Class time is 6:30 to 7:30pm. Most class dates will fall on Mondays and Wednesdays, there are a few exceptions when we get close to holidays so please check your calendar when choosing your classes. We will be meeting in the classroom in the basement of the shop: 100 Trenton Road, Fairless Hills, Pa 19030.
Also offered: We will continue the videos and take home floral kits as well for those that are enjoying designing at home with family and friends! Classes are $35 each or if you sign up for 3 classes it is $100. To sign up call 215-547-4550 or go to our Design Class Form and fill out the information form (we will then contact you).
August 23rd (3 SPOTS LEFT) & 25th - Harvest Design
September 7th (1 SPOT LEFT) & 8th (SOLD OUT) - Fall Vase Design
October 25th (SOLD OUT) & 27th (1SOLD OUT) - Fun Halloween Design
November 20th 2pm (7 SPOTS LEFT), November 20th 6:30pm (SOLD OUT) & 22nd (SOLD OUT)- Holiday Centerpiece
November 21st 2:00 pm (SOLD OUT)- Holiday Centerpiece
November 26th through December 7th (Class times will be announced in Early October) - Winter Live Wreath Decorating
December 18th 2pm (5 SPOTS LEFT) & December 19th 2:00 pm (SOLD OUT), 20th 6:30 pm(SOLD OUT), & 21st 6:30 pm (SOLD OUT)- Holiday Centerpiece
Sample Design Class Video