Welcome to Flowers by Jennie-Lynne

Please take the time to meet our team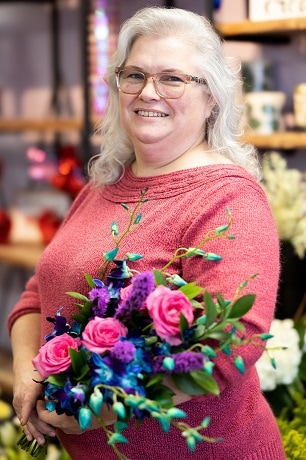 Heather - Owner

Heather has been the proud owner of Flowers by Jennie Lynne for 17 years but has been a designer and manager at Jennie Lynne's for 10 years prior to ownership. She is a wife, mom, stepmom, and grammy to now 3 grandchildren.

She started her career by getting her bachelor's degree in Art Education certified K-12 from The College of New Jersey, then started her floral career right after college as a part-time shop assistant and fell in love with flowers and the ability to design and manipulate them in so many ways.⁠ Since then she received her CFD (certified floral designer accreditation from the American Institute of Floral Designers) in 2019 through Bucks County Community College to reinforce and give time to polish her artistic and creativity in floral design. She tested for AIFD distinction which is the highest level for a floral designer in October 2021 and was inducted in July 2022. In September 2022 she also received her AAF (Academy of American Florists) which recognizes florists who champion education and their community.

Heather is passionate about sharing her love of floral design with others through teaching (have you taken one of our floral design classes yet??) Her favorite design style is formal linear, her favorite flower is a peony and her favorite color has always been turquoise.

When she's not in the shop making flower magic or planning classes, you'll find her and her husband Dave at their campsite enjoying family and friends.
Yvonne – Manager and Wedding Consultant

Yvonne started her journey in the floral industry taking horticulture as her concentration at Bucks County Technical High School. While there she⁠ won first place in the state FFA floral design competition and continued on to Nationals. Pretty impressive huh?⁠

Yvonne went on to work in flower shops for the past 26⁠ years as a designer and manager, and for 17 years she even owned a flower shop under her own name! She continues here at Flowers by Jennie⁠ Lynne as our manager and wedding consultant.

These past few years she has been broadening her knowledge by attending classes to stretch her creativity in⁠ advanced floral design at Buck County Community College Continuing Education program.⁠

Yvonne's favorite color is coral, coral, and yes, coral! Her favorite flower is tulips, and a perfectly rounded bouquet is her specialty. She loves wedding and prom designs.

We appreciate Yvonne's hard work ethic and ability to keep us laughing every day (just don't talk to her pre-coffee!) ⁠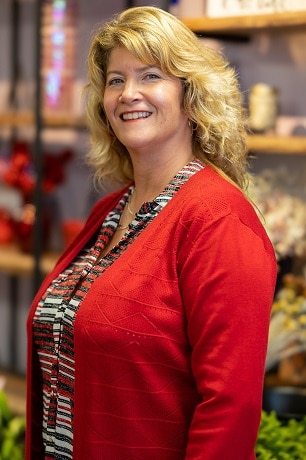 Linda - Floral Designer

Linda is one of our wonderful designers here at Flowers by Jennie Lynne. She's been a florist for over 30 years!

She specializes in weddings but her eye for detail makes her a go-to for any style. She's currently taking classes to complete her CFD (Certified Floral Designer) certification.⁠

In addition to her work on the design table, she's also our resident photographer. Many of the photos you see on our website here or on our Facebook page were taken by Linda. She even has a line of photo greeting cards that you can buy in the shop.

Although Linda has too many favorite colors to choose just one, you'll be sure to win her over with something BRIGHT! hot pink, lime, yellow, turquoise. And if you want to send HER flowers? Definitely go with orchids⁠.

When she's not at the shop you can find her spending time in nature, probably with a camera in her hand.
Lisa – Floral Designer

Lisa, one of the most experienced pros on our team, knows floral design like the back of her hand. She's been designing for 30 years! ⁠ She's currently taking classes to complete her CFD (Certified Floral Designer) certification.⁠

She is passionate about floral design and enjoys using her creativity and imagination to design beautiful works of floral art. Her background is in art and it shows through in all she creates.

She's a wife, mother, and grandmother with three kids and 11 grandkids. One of her favorite pastimes is creating elaborate decorations and accessories for her grandkids' birthday parties (lucky them!)

Lisa's favorite color is turquoise; her favorite flower is hydrangea and her favorite design style is a garden style.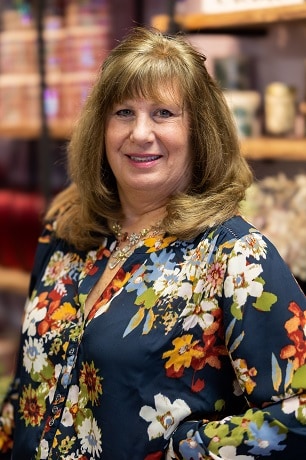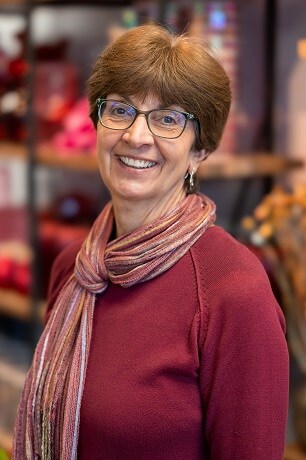 Grace - Floral Designer

Grace is another member of our all-star design team here at Flowers by Jennie Lynne. Grace has been designing for six years now. She started taking classes around the time that she was retiring from her previous career and never looked back!

Grace loves all flowers (don't we all!) but if she HAD to pick a favorite it would be dahlias. The bigger the better.⁠

When she's not at the design table or on-site with us setting up our weddings or events, you'll find Grace reading, gardening or maybe scouring a flea market for a great vintage find.
The Daubenspeck's – Dynamic Wedding Duo

The Daubenspeck's are our Dynamic Wedding Duo. Combined they have helped set up and work over 100 weddings! From the Jersey shore to Lancaster they have seen many wedding styles and venues! You have probably seen Cami running around the shop since she was 2 years old! Daniel has been with Jennie Lynne's for 2 years now. They got married in March of 2023.

Cami's favorite flower is any shade of lisianthus you can find. Her favorite color is yellow, in true Hufflepuff fashion. Daniel's favorite flower is statice because of the unique paperlike texture. His favorite color is forest green.

Cami graduated with her Bachelors in Early Childhood Education in May of 2023. Daniel is another one of our resident photographers. This is their part time jobs, but will always call Jennie Lynne their home away from home.When not in the shop you can find "The Daubs" at a park taking a walk and counting deer.